Flowers that Attract Hummingbirds
Looking for flowers that attract hummingbirds?

While it's fun placing feeders in your yard, at some point you're going to want to add in the natural nectar only the correct flowers can provide these charming birds.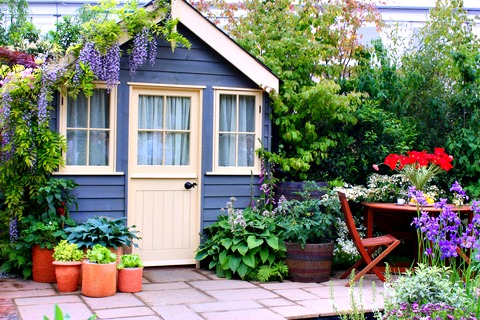 I find there's a special feeling of accomplishment when you realize you're helping these zany little "buzzers" stay alive and well!

The funny thing, though, is you'll discover how close they are to you and me when we're talking eating habits.

Just like you may want to eat vegetables one day and pasta the next, hummingbirds will eat from one flower today and flock to another tomorrow.

That's why it's a good idea to plant a variety in your hummingbird garden.

Hummingbirds especially like the color red, although they'll find nectar in any brightly colored flower. They enjoy feeding from tubular shaped flowers.

Hanging Flowers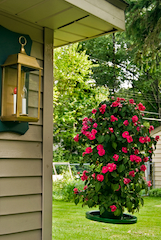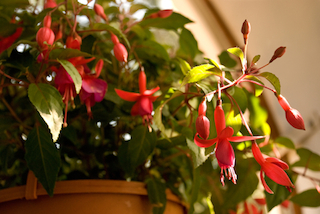 An easy way to begin your journey is to use hanging baskets near your home. 

Quality choices are red Fuchsias and Petunias. Salvia and Impatiens work well, too.

Using a hook, you can easily mount a window or side basket filled with flowers .Hang on a pole. Or keep in container without hanging it at all.
As an extra attempt at attracting hummingbirds to your yard, try placing a feeder  near your hanging flowers.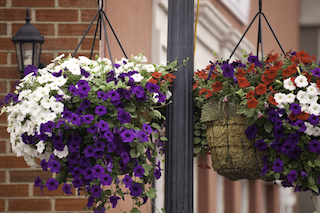 Flowers That Attract Hummingbirds
Abelia


Abutilon   
Common Names: Indian Mallow, Chinese Lantern, Flowering Maple


Asclepias Tuberosa   
Common Name: Butterfly Weed


Agastache   
Common Names: Sunset Hyssop, Threadleaf Hyssop, Hummingbird Mint


Althea       
Common Name: Hollyhocks


Anisacanthus   
Common Names: Flame Anisacanthus, Desert Honeysuckle


Aquilegia   
Common Names: Fragrant Columbine, Crimson Columbine, Sierra Columbine


Azalea

Bee Balm  Common Names:  Horsemint and Monarda. This is a hummingbird magnet! Watch above as Dave Epstein of Growing Wisdom.com  gives you his own tips about this beautiful tall growing flower.
Begonia


Butterfly Bush


Catmint


Caesalpinia   
Common Names: Broadpad Nicker, Bird of Paradise, Yellow Peacock


Centranthus Ruber   
Common Name: Red Valerian


Chilopsis   
Common Name: Desert Willow


Cleome


Dahlia


Dicliptera Suberecta


Digitalis   
Common Name: Foxglove


Eupatorium   
Common Name: Joe-Pye Weed


Fuchsia
| | |
| --- | --- |
| Lilac | Mock Orange |
Gladiolus


Goldenrod


Hamilia    
Common Name: Firebush


Hawthorne


Hesperis Matronalis


Heuchera Sanguinea    
Common Name: Coral-Bells


Hibiscus
Hibiscus

Bird of Paradise

Yellow Trumpet Bush

Gladiolus

Butterfly Bush

Morning Glory
Hosta


Impatiens Balsamina


Ipomoea   
Common Name: Morning Glory

Justicia       
Common Names: Shrimp Plant, Water Willow


Kniphofia   
Common Names: Torch Lily, Red Hot Poker


Lantana Camara   
Common Name: Lantana


Liatris


Lilac


Lobelia   
Common Names: Fool's Bane, Indian Tobacco


Lonicera   
Common Name: Honeysuckle


Lychnis Chalcedonica       
Common Name: Maltese Cross
| | |
| --- | --- |
| Shrimp Plant & Ruby- throated Hummingbird | Zinnia Flower & Ruby- throated Hummingbird |
Mirabilis Jalapa    
Common Name: Four O'clock


Mock Orange


Nasturtium


Nicotiana   
Common Name: Flowering Tobacco


Pelargonium   
Common Name: Geranium


Penstemon   
Common Name: Beardtongue


Perovskia Atriplicifolia   
Common Name: Russian Sage


Petunia


Phlox


Physostegia

Wisteria
| | |
| --- | --- |
| Nasturtium | Veronica |
Rose of Sharon


Salvia       
Common Name: Sage


Stachys Coccinea


Sweet Pea


Tecoma   
Common Name: Yellow Trumpetbush


Tithonia Torch


Veronica
Wisteria


Yucca


Zauschneria


Zinnia

When you're starting out with your garden and still learning, I encourage you to take the above list to your local nursery.

Ask about which flowers are native to your area. Which will grow best in your location?

The nursery in your town will be able to provide invaluable advice about flowers that attract hummingbirds so be sure to use them! 

Bottom line? Diversity is a must. Give your hummers a large selection to choose from. Plant flowers that bloom at varying times and you'll enjoy a garden that's a "buzz" of activity.

                                                                                    Subscribe to my updates!
Hummingbirds > How To Attract Hummingbirds > Flowers That Attract Hummingbirds