Hummingbird Cake Recipe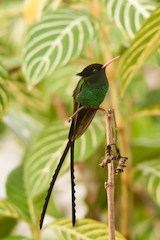 No hummingbirds will be harmed in the making of this cake!!
Nope, it's main ingredients are bananas, crushed pineapple, and pecans.
Being from the south myself, I can easily subscribe to the origins of this deliciousness being southern.
In fact, it's formal introduction into mainstream American society was through Southern Living magazine in 1978, by Mrs .L.H.Wiggins of Greensboro, North Carolina.Who then forgot to tell us where it came from, bless her heart.
Regardless, it became one of the magazines most popular recipes, revered in the southland, and soon just about everywhere.
But there are varied theories as to its origins, and my best bet would be Jamaica, known as the Jamaican Cake.
The reasons start with the fact that the Red-billed Sreamertailed (male) hummingbird is Jamaica's national bird, aka the Doctor-Bird.
This species of hummingbird can only be found in Jamaica. It's "uppity" name is Trochilus polytmus also known as the Red-billed Streamertail.
It is also something of a star, having been featured in the opening line of Ian Fleming's James Bond "For Your Eyes Only".
That first line reads: "The most beautiful bird in Jamaica, and some say the most beautiful bird in the world, is the streamer- tail or doctor-hummingbird."
Another reason for this being my best choice for the origins of the hummingbird cake would be its ingredients, bananas and pineapple.
In March of 1969, a cake named the Doctor-Bird cake was featured in the Jamaican Daily Gleaner, it's ingredients being banana and pineapple.
Case closed! As for my own opinion anyway... you are always free to think it's because it is so sweet…or that it can make you hum while eating it…or everyone hovers around it  before diving in!!
So, with no further ado, here is the Hummingbird Cake recipe:
Ingredients
3 cups all-purpose flour
1 teaspoon baking soda
1 teaspoon salt
2 cups sugar
1 teaspoon ground cinnamon
3 large eggs, beaten
1 cup canola oil
2 teaspoons vanilla extract
1 8 oz can crushed pineapple, with juice
1 cup chopped pecans
2 cups mashed or chopped bananas
Make sure wire racks are in center of oven.
Preheat oven to 350 degrees.
Whisk first 5 ingredients in a large bowl.
Add beaten eggs and oil, stirring until dry ingredients are moistened, but do not beat.
Stir in vanilla, pineapple, 1 cup pecans, and bananas.
Pour batter into three greased and floured 9-inch round cakepans.
Bake at 350 degrees for 25 to 30 minutes or until a wooden pick inserted in center comes out clean.
Cool in pans on wire racks 10 minutes.
Run knife around the edges and remove from pans, and cool completely on wire racks. 
Cream Cheese Frosting
1 eight ounce package  cream cheese, softened
1/2 cup butter or margarine, softened
1 16 oz package powdered sugar, sifted
1 tsp vanilla extract
Beat cream cheese and butter at medium speed with an electric mixer until smooth.
Gradually add powdered sugar, beating at low speed until light and fluffy.
Stir in vanilla.
Spread cream cheese frosting between layers, on top and sides of cake.
Garnish with additional pecans, and shredded coconut if desired.
Store in refrigerator.
It's best in my opinion to set back out of refrigerator for about an hour so it will come to room temperature before serving.
Keep it stored in the fridge though.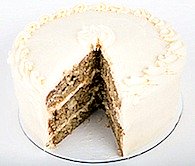 Subscribe to my updates!